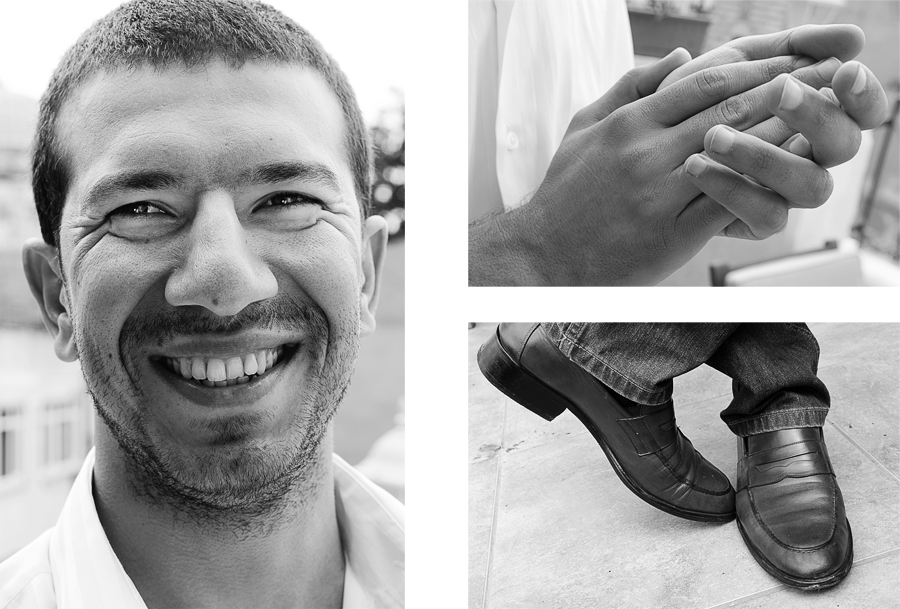 Emrah, hotelier-manager, Urfa, Turkey
Emrah I met in the hotel in Istanbul.
He is hotelier manager of the nice Hotel Tulip House (*) and took lovingly care of us from the beginning to the end of our stay – just like the rest of the hotel crew. He gave plenty of tips where to go, where to eat and what we could possibly visit. We went for smoking shisha together, and had a stop at the 'kuaför' – the result is shown above: -)
Being unhappy about his first 'hands' picture – he was really nervous at the shoot – he for some reason clapped the hands, and voila, there was the image! Feet: He owns this pair of shoes for two years now and they have been repaired twice. His comment: "Very fancy". I agree.
He used to be a teacher in English and Theology, before that he repaired washing machines and refrigerators. For three years he is in charge of the Tulip House now, but his mind wanders around, as he states himself having the 'monkey spirit': He would like to be a sailor on a sailing boat, save the world, integrate with soil as a farmer (the little garden on the terrace proves he could), wants to learn French, and visit us in Germany… You are always welcome, Emrah!
His last thought before we closed the session: "I like meeting new people but it is really tiring to carry the traces of those whom you share profound moments with."
Thank you for the photos, Emrah, and your and everybody's incredible hospitality! All of you were part of our truly remarkable experience 'Istanbul'.

* P.S.: If you are looking for a a nice hotel in Sultanahmet, offside the touristy hustle and bustle (but only 3 min walk to the Blue Mosque!), check out Hotel Tulip House.
If you decide to stay there, please tell Emrah and me you read about it on this website – I will get a little discount on my next visit…